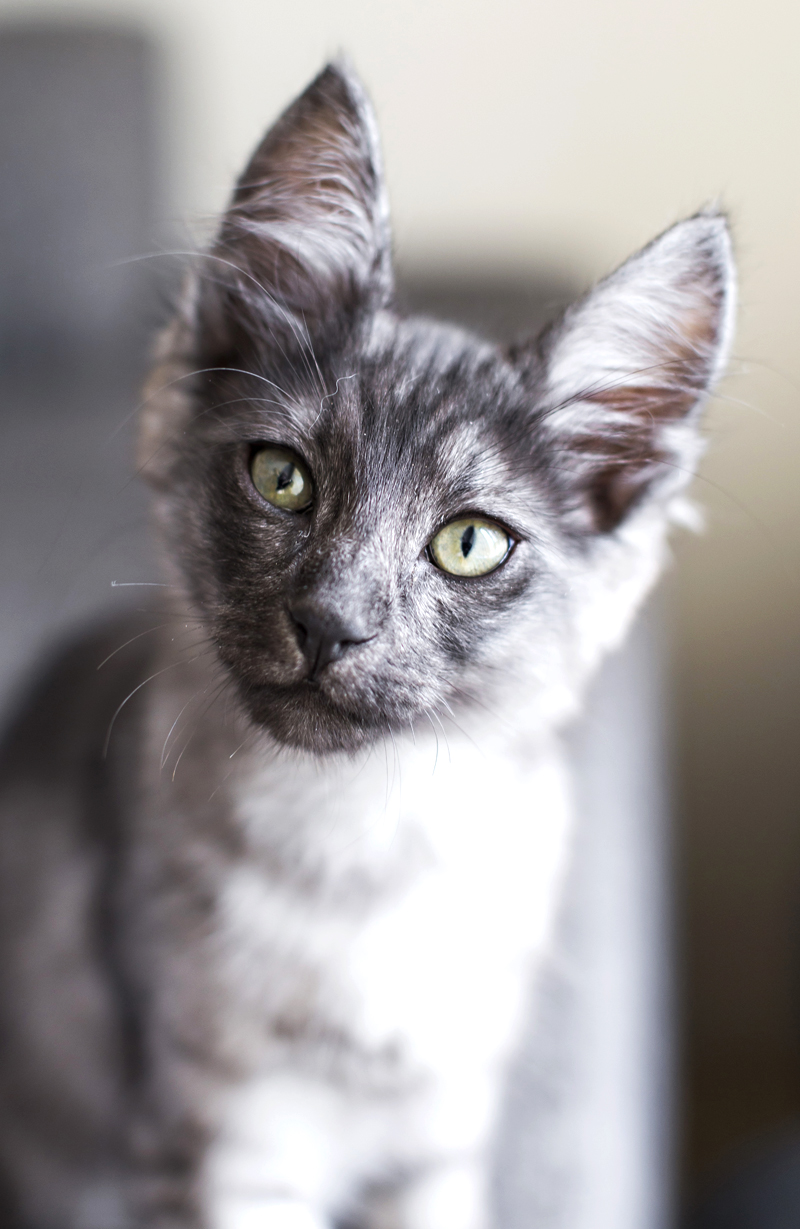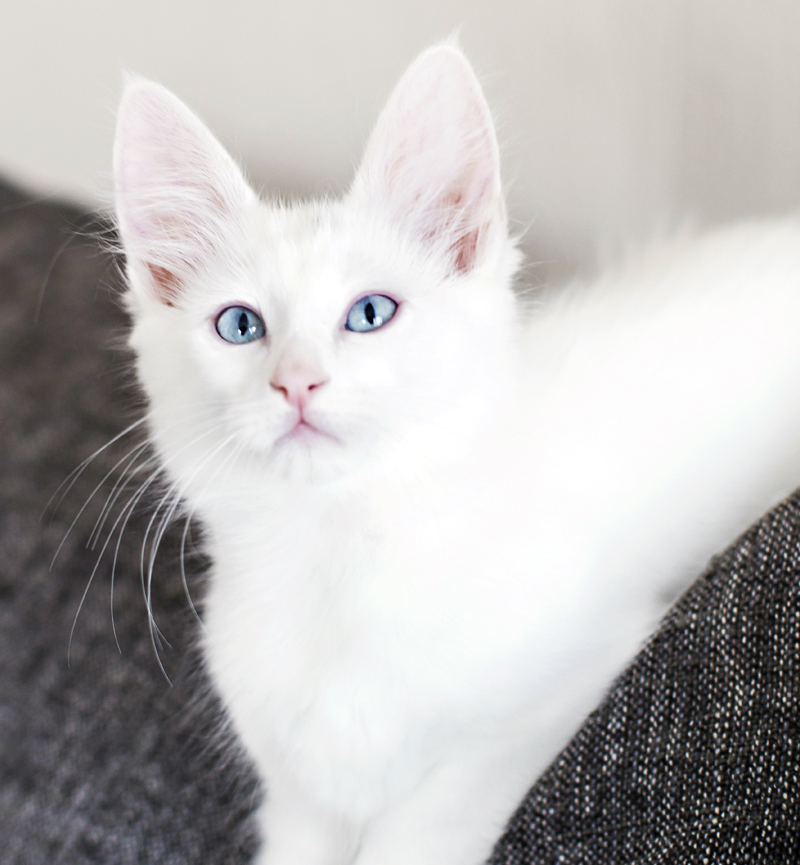 About US
Founded and owned by Nicolene Voget, Dèlice Cattery is situated in Gauteng, South Africa and aims to breed healthy, well-socialised Turkish Angora kittens that meet the breed standard.
"Before the breeding programme started, I owned and showed my first pedigree cat, Silkenclaw Calling the Shots (AKA Darcy), my blue shorthair Selkirk Rex. Grant Leih, owner of Silkenclaw, introduced me to the cat fancy. Due to my international travels, I fell in love with the Turkish Angora breed and was disappointed to find no local Turkish Angora breeder in South Africa, hence the motivation to start the programme."
"Before acquiring my cats, I visited Michelle and Dan from Etonnant cattery in Canada. Michelle and Dan spent a lot of time with me explaining the breed and how their cattery works. As there was no one breeding Turkish Angora kittens in South Africa, it was very important for me to learn from people like Michelle and Iris about what to expect with the breed specifically. I am passionate about both my Turkish Angoras and Selkirks."
The breed
About the Turkish Angora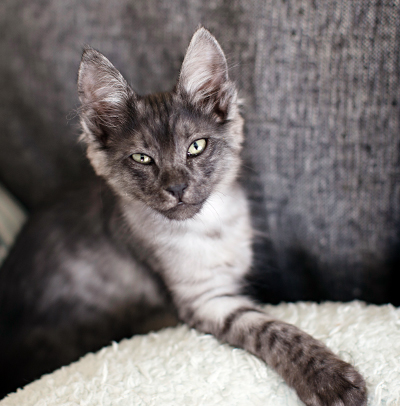 The Oldest Known Longhair Breed
With its ancestry dating back to the Ottoman Empire, of the fifteenth century, Turkey, this glorious feline, is the oldest known longhair breed. In its native land, the Turkish Angora is considered a national treasure. Fine-boned and elegant, with a long, shimmering, silky coat and a plumed tail, the Turkish Angora is often described as ballerina-like.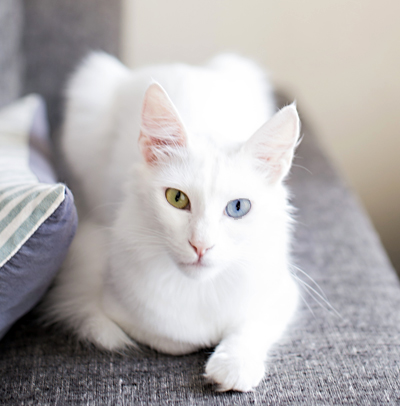 Type
A small to medium-sized cat, Angora's are usually thought of as white cats with blue or green eyes, but they come in many colours and patterns. Among the aficionados of the breed, the odd-eyed Angora's are the most prized. Hidden below all that luxurious fur and proud carriage lurks a wicked sense of humour.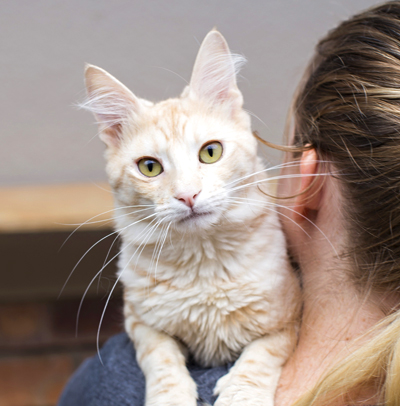 Special Temperaments
Angora's are playful, intelligent, engaging, athletic and curious. Angora's bond with humans, but often selects a member of the family to be their constant companion. They are, in turn, very protective of their person. They seek to be "helpful" in any way they can with their humans, and their intelligence is at times remarkable, showing basic problem-solving skills. The breed has a fondness for heights, and the higher the better. The graceful Angora is keen to greet visitors to your home and to interact with your guests.
Queens
I currently have two queens: Etonnant Eloise (odd eyed white) and Etonnant Adeline (green eyed white). Both girls are from Etonnant Cattery in Canada, from Dan and Michelle Beaudry. Eloise is very energetic and a real Mamma's girl; she loves to be with me. Adelaide is my model; if she is not perching somewhere up high looking all royal, she is getting rid of all her energy by playing with her furry housemates. Both girls are highly sociable and will greet guests at the door or come and introduce themselves in the lounge.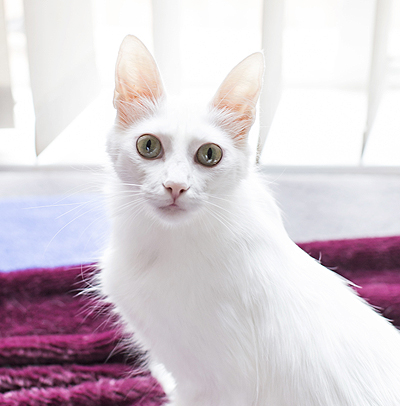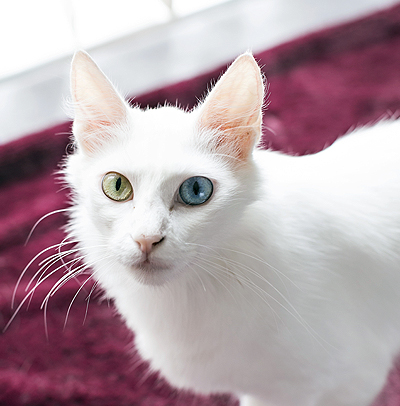 Studs
My two stud boys are Folie a Deux Deck the halls (AKA Decker) and Osiris de Saint Paër (Osiris). Decker is a red spotted tabby bi-colour; he is a real lover boy and loves to cuddle. Decker came all the way from Boston, MA, USA, from breeders Bob and Iris Zink of Follie a Deux cattery. Osiris, a beautiful cameo classic tabby, is the latest addition to our family. He is a cuddle bug that loves to be on your shoulders. Osiris was imported from France, in a breeding collaboration with Virgini Deparis, Iris Zink and Cécile Carrasco.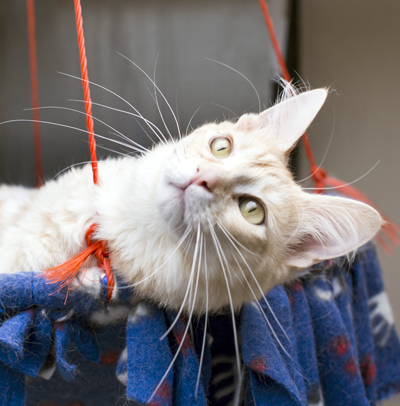 Turkish Angora Kittens
All about our Babies
Registered
Our kittens are all registered with SACC and can be cross-registered to other organisations for showing purposes. They leave for their new homes with a 4-generation official pedigree and transfer form.
Included in Adoption
Our adoption fee includes relevant inoculations, microchip and registration. Our kittens are also neutered / spayed prior to leaving us so you never have to worry about hormonal behaviour. 
What Else?
All of our kittens leave for their new homes with a Hill's Starter pack, some toys and a blanket as well as a comprehensive guide on how to care for your new family member. Shipping can be arranged at an additional cost if you do not live in Gauteng. 
Your Turkish Angora kitten
We have babies
Choosing a kitten is one of the most important parts of this process. Our babies are reared underfoot in our home and are exposed to normal household noises and activities. Should you be interested in becoming a slave to one of our Turkish Angora kittens you can get in touch via email or give us a call. Alternatively you can fill out our questionnaire below and we will be in touch. We are happy to send photos and videos if you are unable to choose your kitten in person, and recommend the right kitten to suit your lifestyle. We can fly kittens nationwide.
Both our girls have given birth in the last couple of weeks. Adelaide had four kittens, three white (two girls and one boy) and one smoke tortoiseshell girl. Eloise had five kittens of which three are white (two boys and one girl) and two black smoke boys. Both...